Booking is easy..
1. Choose your session time/length
full day : 9.30 am – 4.00pm (10 – 12 games)
am only : 9.30am – 12.30pm (5 – 6 games)
pm only : 1.00pm – 4.00pm (5- 6 games)
2. Choose your package
scroll down to check them out
All packages available 7 days a week
Additional paintballs available with all packages
CHOOSE YOUR
OWN BUDGET
& PACKAGE
Call us to discuss your visit
01902 455455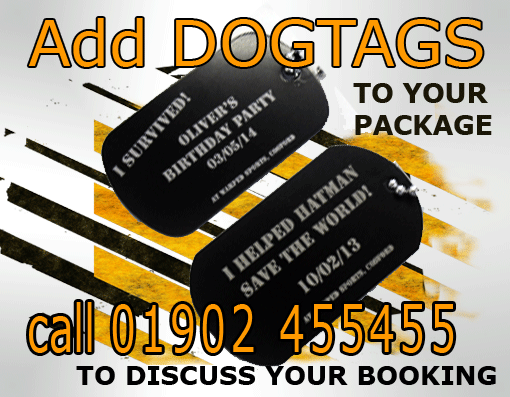 Full Impact Paintball
Age 12+ at Warped
For over 25 years Warped have been delivering awesome paintball experiences for all ages. Our award winning site at Cosford, Wolverhampton has seen continuous development and is now the Midlands largest paintball & outdoor combat games playground. Our game maps and formats are developed to provide immersive, realistic, battle simulation.
FULL IMPACT

Paintball

is the version of the game you will likely know of. Using semi-automatic weapons shooting full size (.68 calibre) paintballs.
Open to players of all ages, beginner or veteran.
Games are structured and team-based, played on our expertly designed game maps, which are all themed to deliver unique challenges and action-packed play.
SPRING/SUMMER 2020 OFFER
play ANY SUNDAY and SAVE
BOOK any of the packages on this page to play on a

SUNDAY
and your paintballs are

CHEAPER

than any other day !